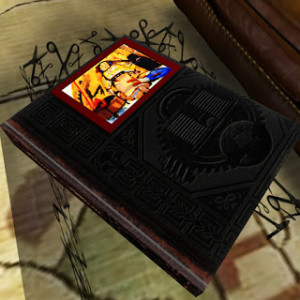 Pictures!
So I've been working on this new portfolio, basically it's a particle stream photo book to store all your photos in, but it's low prim, the book doesn't open or close, instead your photos stream above it. It's an old SL idea, but I love playing with the covers to create something new and different, I hope!
I haven't been on SL much since moving to Europe and I must say I miss it. Lousy internet and lack of time have kept me away but I've still managed to put together my new gallery 19, (old name) my home, and a couple of other buildings on the land and I must say it's looking pretty good if I say so myself. (and I am saying so, you heard it right here. So drop in, wait, let's see, did I manage to put the LM together too? And can I find it? My hard drive is as messy as my inventory! Sigh…….
O kaaaay, can't find it, but I'll come back and edit it in later. Here's what the particle photos look like anyway,
Your photo opens up and follows your camera, so you can see it from any position of course. This was an open source script and I really like it, although it might be a bit laggy if there's….lag. The photo of course you probably recognize, it was taken in Kowloon, one of my favorite places in SL, and I'll find the link for that too..eh… later.